Get our Software Maintenance Services at a Reasonable Price
At Infomaze, our software maintenance team ensures modifying and updating technical aspects of software apps to be free of errors and also user-friendly, inherently improving software performance and efficiency. So what are you waiting for hire our team.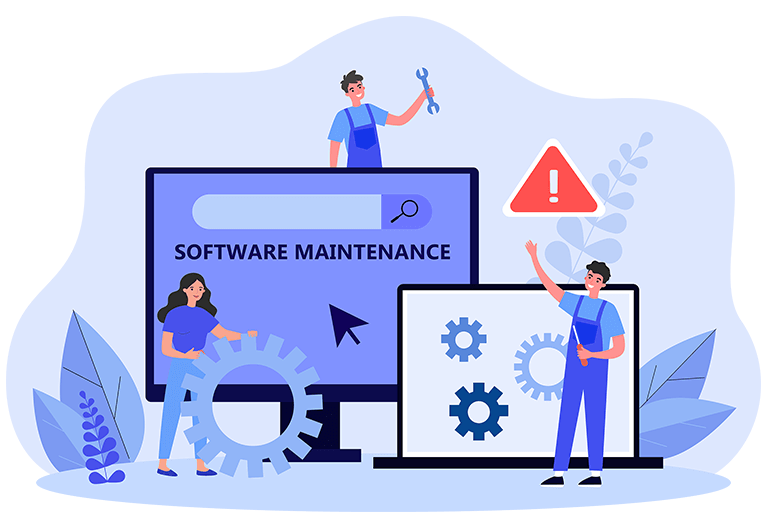 The Benefits of Hiring a Software Maintenance Team
You can choose from our various engagement plans to hire our team and reach your goals faster.
Do you already have a pool of libraries and an in-house R and D team? So get our team's help to reach the best solution, guidance, and support at no extra cost.
Also, we are very good at adapting existing software or starting a new project in less time.
Our all resources undergo in-house training to follow the coding standards procedures and also non-technical skills, which includes communication and paying attention to details, among the other soft skills.
The employees at our company have a strict agreement for Non-Disclosure and Intellectual Property Rights.
We provide the highest quality, security, and regulations compliance. Because we are an ISO-Certified Company (9000:2015 and 27000)
We have the latest infrastructure, hardware and software to build long-term relationships with your business at any given time.
Also, we save you from recruitment and infrastructure costs.
Also, get yourselves a committed maintenance team to get the best results.
Consider our Software Support and Maintenance Services
Professional Maintenance Services
Our software maintenance team will work from our offices and provide end-to-end support with flexible timings. You can choose our trained team or individual to work on a specific task per your requirements.
Ongoing App Re-engineering Services
App integration and re-engineering service handle your working app to achieve functionality.
App and OS Migration Services
The team will review your existing apps and suggest OS updates and system migration.
DevOps services
Automate your software maintenance process and ensure infrastructure's security and servers work Properly.
Third-party Server Maintenance
Our trained team will make sure your computer network executes smoothly through server monitoring, firewall protection, updates, and backup with minimum downtime.
Fixes and Backup Services
We ensure that your ongoing task runs smoothly and error-free. Entrust our dynamic servers to securely store your business data and access it through valid authentication.
Web App Maintenance
We offer web app maintenance services such as app scaling, bug fixes, technical support, design, testing, enhancements, upgrades, documentation and more.
Mobile App Maintenance
Our software maintenance services deliver the most promising mobile app functionality with optimized UI/UX to help your apps stay compatible and scalable.
Hire our Flexible Engagement Moduleat Affordable Rates
You get an in-house team with expertise in providing end-to-end support for product development, testing, and managed IT services.
Our well-trained team is capable of completing your preferred tasks on-demand or for long-term projects with changing requirements.
Did you not find a module that suits your specific needs? Do not worry; we customize the engagement module by combining the different available modules or coming up with an entirely new one that meets your expectations.
Project basis
Hire our team on a project basis and let our team know your project needs. Projects are completed and delivered on a milestone basis and undergo testing before providing a well-written and working software.
Hire Part/Long term
Our software maintenance team works on your project for part or long time and engages us in monthly or quarterly settlements. We suggest the best team with similar experience to deliver top-notch results based on the task.
On-demand team
Hire our skilled and experienced team who are ready to take on an ongoing project. Our team will be available and strategically take care of any immediate or urgent needs to complete the project.
How does our Software Maintenance Company Operate?
Requirement Analysis
We first grasp the requirements and goals of the project. Then we have a series of meetings to analyze and design the project details, budget, technical specifications, and timeliness.
Hire Software Maintenance Team
As per the requirements gathered, We have build an experienced team with technical expertise that matches specific maintenance and support needs.
Project Completion
The software maintenance team will follow a focused approach to keep you in the loop during the entire process from coding, designing, project management, and QA till project completion.
QA and
Testing
Once the project is complete, we will run multiple QA (Quality Assurance) tests to deliver functional, stable, bug-free, and user-friendly software that enhances the growth of your software.
We offer Software Maintenance Services for Various Industry Sectors
eCommerce
Ecommerce retailers suffer from site crashes, late deliveries or incorrect coupon codes. Hire our team to manage your problems effortlessly.
Healthcare
Healthcare organizations have widely benefited from software maintenance services. We help you detect and fix failures in the early stages.
Foodservice
Always get maximum customer satisfaction in your foodservice business by tracking and Handling your mobile or web app.
Legal
Let us handle all of your client's information, evidence, documents and maintain your company's database and business queries with our Team
Telecommunication
Software maintenance is the most preferred thing in telecommunication. We can frequently update and modify new services to make a better world of communication.
Solar Industry
We can efficiently handle all aspects of your solar energy business. Our services can install, manage, and execute your solar power plant operations.
Photography
Manage your photography business seamlessly with our user-friendly support with regular updates and error checks on your web and mobile app.
Construction
We construct your business workflow effortlessly, be it asset management, contracts, or workflows. We have a team to take care of your app at your fingertips.
Why Choose us for Software Maintenance Services?
 Our top priority is to fix the errors and also defects to enhance the performance of the software and prevent downtime with less turnaround time.
We also provide short or long-term projects as we can get started in almost no time in a hassle-free manner.
Because we have the best experienced digital experts to improve software reliability.
We also allow you to have direct communication with our team to solve real-time problems.
You will always be in complete control of your project while we take care of the security to assure data authenticity.
Get 24×7 assistance to increase your business productivity and also minimize downtime at a reasonable price.
Also Read about: Outsource IT help desk services
FAQs while Hiring Team
How much does it cost to hire a team?
We offer very reasonable rates for Programmers starting from 12 dollars per hour (prices may vary depending on the Programmer's skill set and experience). So you can hire our team at a less price.
How skilled and experienced is your team?
We have a team of more than 100 Programmers with an average of More than 5 years of experience. Our Programmers have worked on several hundreds of projects for businesses of all sizes and types. Our programmers are not just experienced but also experts in there work.
How do I track my project's development progress?
Once we start working on your project, we will keep you in the loop and frequently update you with everything that's going on. this way you can always keep track on your project.
What is your standard duration?
Usually, a project may take three to seven weeks to complete. It depends on the size of the project.