The importance of videos is known to every marketer. Over the years, video marketing has come up as one of the top marketing strategies. With the help of videos, marketers can efficiently transform information into unique and exciting content. 
There's no need to read a ten-page booklet to understand a new product whenever you buy it. Instead, you can just watch a product explainer video.
In addition, with people increasingly using social media platforms, video can get your brand out there within minutes. You can post short videos on Instagram, Facebook, or Twitter, to attract a target audience and interact with customers. 
Many big organizations have their own team to plan and produce marketing videos. But there are many video production companies that you can hire to create amazing videos. 
Businesses just stepping into the world of digital video marketing should hire a good Animated Explainer Video Production Company to get great results from the start.                                                             
Here are some statistics about video marketing that will help you in creating your next video marketing strategy-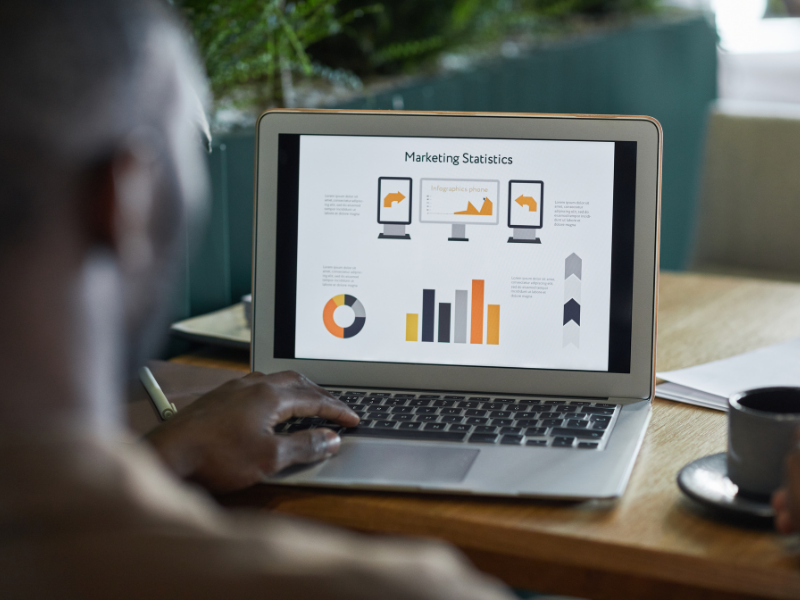 Video marketing statistics
To make it easier for our readers, we have categorized the statistics into various categories. These statistics will help you create a strategy to grow your business in 2022. So, let's read on to check them out. 
According to research conducted by Wyzowl, video is used as a marketing tool by 86% of businesses. In addition,  92% of marketers consider video an essential part of their marketing strategy.
Furthermore, many video marketers (18%) started using video marketing in 2021. This number went down from 24% in 2020. 46% of these marketers agreed this was because it had become easier to create videos in-house.
43% of video marketers say video has become necessary because of the new challenges, including the coronavirus pandemic.
Using videos for marketing is quicker and less time-consuming, according to 38% of marketers. In fact, according to 27% of first-time video marketers, more and more people are adopting video marketing because it has become more affordable.
Impact of the pandemic on video marketing-
The pandemic has affected the marketing plans for 2021 and 2022; 64% of video marketers agreed. Out of these people, 3/4th said the pandemic promoted the increase of video marketing content while the others disagreed.
Fortunately, the pandemic's impact on the video marketing budget is finally reducing. 
Only 50% of marketers are expecting the pandemic to affect their video marketing budget for 2022. 
Using videos to close deals
Marketers are often using video to close deals. This is because videos have incredibly effective at converting prospects to customers. 
With the help of videos, prospects can see your product or service in action, get answers to questions they might have had, and see demos of real-life applications. 
Moreover, this clears any final objections and bridges the gap between interest and purchase. 
According to Google, more than 50% of shoppers say videos have helped select a brand or product. 

84% of customers have been convinced to buy a product or service after watching a brand's video. (

Wyzowl

)

78% of marketers agree that video marketing has helped to increase sales. (Wyzowl)

According to

Animoto

, 93% of brands said they got a new customer because of a video on social media. 
Types of videos for marketing-
On average, around 40% of companies spend $500 on a typical video, while an overwhelming majority of 97% spend less than $10,000.
These companies create a plethora of different videos for different purposes. While 42% of businesses mostly use live-action videos, 33% prefer animated videos, and the remaining 15% mainly use screen-recorded videos.
Let us see some of the most popular types of videos used by businesses. presentation videos (49%), testimonial videos (48% ), and sales videos and video ads (42% each). 
With 72% of businesses producing them, Explainer videos have become the most popular type of videos. These videos have been incredibly effective in increasing conversions and sales. 
Explaining the product of service in detail, they clear up all the doubts of the customer, leaving them with a deeper understanding of the product. 
Here are some stats related to the explainer video that shows its effectiveness-
76% of businesses agreed that explainer videos have helped them increase traffic.

According to

Forbes

, 56% of consumers want to see more explainer videos on a company website.

97% of marketers say that explainer videos have made it easier for users to understand their product or service.

83% of businesses agree that using an explainer video on their homepage is effective.

95% of consumers watched explainer videos to understand a product or service.

Testimonial Videos
Testimonial videos have been a great help to businesses when it comes to transforming prospects into customers. Hearing positive reviews directly from customers gives prospective clients proof that your product or service is as good as you say.
Sales Studio- Testimonial Video
You can build both trust and authority among customers with the help of testimonial videos. 
Here are some statistics related to testimonial videos-
79% of consumers prefer watching a testimonial video instead of reading a text-based review.

More than 47% of customers prefer testimonial videos because they help them visualize the product. 

39% of customers prefer testimonial videos because they show the impact a product or service will have on their life. 

Promo Videos
Promo videos are great for introducing a new product, event, or webinar. In addition, you can post these videos on social media sites to attract customers. 
Promotional videos are perfect for taking advantage of features like Reels and Stories on social media platforms. 
Some Promotional video statistics to check out-
According to 53% of marketers, promotional videos can help them raise awareness about their brand.

Promotional videos have helped approximately 84% of marketers in generating more leads. 
Video marketing on different Platforms-
Social media platforms are the best place for video marketing. More than half of the world's population uses at least one social media platform daily. As a result, video marketers can utilize these platforms efficiently to spread their information about their brand, product, and service. 
Let's see some statistics related to the different social media platforms.
Instagram is one of the most widely used platforms. Hence it is a close favorite of video marketers. 
Since June 2017, Instagram saw an 80% increase in the time users spent watching videos. 

Approximately 40% of videos are watched with the sound off on Instagram. 

On Instagram, Video posts get 2x more engagement in comparison to other types of posts. 

Business profiles posted ⅓ of the most viewed stories on Instagram. 

77% of marketers utilized IGTV to post videos on Instagram.

Video ads have convinced more than 79% of people to buy a product and service.

Every day, around 70% of Instagram users watch videos in the form of stories. 

After watching a story on Instagram, 1 out 4 users bought a product. 

63% of the time video ads shot through mobile phones perform better than studio shot ads. 

Facebook
Almost every adult has a Facebook account. As a result, Facebook is the most ideal platform for getting more viewers. 
You can post unique and creative video ads to attract viewers. In addition, you can also post explainer videos or testimonial videos to convert prospects. 
Here are some statistics related to Facebook video marketing-
On Facebook, 85% of videos are watched without sound. 

In the last two years, Facebook Live viewership alleviated by 50%.

Approximately 140 million people use Facebook watch daily. 

Facebook is used by more than 84% of businesses as their main video marketing platform. 

When a brand appears in the first 3 seconds of a video ad, viewers become 23% more likely to remember it.

Videos that are 16-20 seconds long have the highest conversion rates on Facebook. 

Facebook Live Streams make up only 12% of total video posts on Facebook.

Live videos get 3x more engagement on Facebook than recorded videos. 

On average, 75 million people spend 20 minutes daily on Facebook Watch.

Youtube
Unlike other social media platforms, Youtube is solely focused on video content. As a result, the competition of getting your video noticed increases tremendously. 
You need to thoroughly plan and create your video marketing strategy to stand out on Youtube. 
Let's see some Youtube video marketing statistics-
Having more than 2 Billion active users, Youtube is the second most popular website. 

More than 55% of marketers utilize Youtube for video marketing. 

On YouTube, more than 1 billion hours of video content is watched daily. 

Every minute more than 500 hours of video content gets uploaded on Youtube. 

33% of baby boomers watch Youtube videos to learn about a product or service.

89% of video marketers agree that they will include Youtube in their marketing strategy. 

By the end of 2020, Youtube generated more than $5 Billion in advertising revenue. 

Youtube is preferred by 65% of viewers when it comes to consuming video content. 

More than 40% of consumers globally have purchased a product or service they found on YouTube. 

Twitter
Though not as popular as other platforms for video marketing, Twitter still holds a large audience base. Businesses can target this audience with attractive content to increase their brand reach. 
Here are some Twitter video marketing statistics to help you create your next strategy-
More than 2 Billion videos get viewed every day.  

Businesses can save around 50% on cost-per-engagement with help of promoted video tweets. 

On Twitter, Video Website cards have a 2x more clickthrough rate in comparison to standard video ads. 

Users watch 90% of video content through mobile phones. 

In the last two years, viewership of video content on Twitter increased up to 72%.

LinkedIn
Over the last few years, LinkedIn has gained a lot of popularity in terms of video marketing. As it is a platform for businesses to connect, it is being used for B2B video marketing. 
Below are some LinkedIn video marketing to help you create your next marketing strategy for LinkedIn-
Video posts on LinkedIn generated more than 300 million impressions in just one year.

Purchase intent can be increased by 33% through Ad exposure on LinkedIn. 

LinkedIn is used for Organic social media marketing by 96% of B2B content marketers. 

LinkedIn users share Video posts 20 times more in comparison to other forms of content. 

80% of all video content on LinkedIn is watched without sound. 

LinkedIn users prefer watching videos that are 30-90 seconds long. 

75% of video marketers agree that video marketing was successful on LinkedIn. 
Author Bio
Komal Kokate is the Co-Founder and CEO of MotionGility, an Explainer Video Company. With a keen eye for creativity, she is an expert in video marketing. While delivering high results to clients, she loves exploring the market and the latest marketing trends in the B2B industry. Connect with her on Facebook and LinkedIn.