Himachal Pradesh is the most palpable state of India, with numerous hills stations and beautiful destinations for vacations. It is also the prime location for tourists to spend their vacation and enjoy some recreational moments. There are some must visiting places in Himachal Pradesh everyone should know.
When you plan to Himachal Pradesh for vacation, the very first lists of visiting places in Himachal Pradesh that come into the mind of people include Shimla, Manali, Kullu, Kufri, etc. But do you know there are much more places in Himachal Pradesh that are still hidden? These hidden gems can provide you with the best experience. So, in your Shimla Manali tour packages, if you want to add some more amazing but the least visited places, then let us discover them.
1. Malana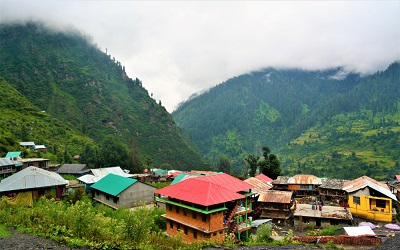 2. Tirthan Valley
3. Chitkul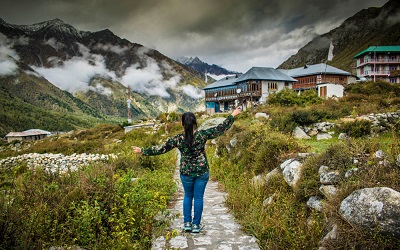 Chitkul is a small and beautiful village in the Kinnaur district of Himachal Pradesh which is at an altitude of 3400 meters. It lies near the Indo-Tibet border and also the last dwelling population near this border. This is also that previous point in the map of India up to where you can travel without any permit. But after crossing the place, you should have valid proof or permit with you. The people who generally prepare their trip to this hidden gem plan a journey from Sangla to Chitkul in which the river Baspa remains as their constant companion. The other significant places in Chitkul one most include the temple of the Goddess Chitkul, who has been here for almost 500 years, and the other is Parikrama pilgrims.
4. Pabbar Valley
Pabbar Valley, although at least people now visit it once it was the refreshment center for the Viceroys. This valley offers you ample opportunities to enjoy an extensive range of activities such as camping, fishing, trekking, and many more. Among these, trekking is most famous here. You can trek through the small villages in the way and the orchards, cedar, birch, or the oak forest, and at last, you will explore the beautiful snow-covered valley. This trip can entice you with the numerous natural and fresh apple orchards over here. So, go to Pabbar Valley to have some fantastic trekking experiences and apples.
5. Thanedar
Since Himachal is well known for its orchards, the highest places wherever you go in Himachal Pradesh will show you the fantastic orchards. The same is the case with Thanedar; the site is well known for its orchards, especially apple and cherry. You can enjoy watching the entire process of maintaining the orchards and how the fruits are plugged to pack in the cartoons. You can pluck some of those and give a mesmerizing taste to your mouth. Apart from the orchards, you will also get the facility of resorts where you can enjoy all the deluxe stays. Visitors to Thanedar are advised to visit prominent places like Nag Devta Temple, Tani Jubbar Lake, St. Mary's Church, Hathu Peak, etc.
6. Shoja
Sojha is one of the finest visiting places in Himachal Pradesh where one can breathe in the fresh air. Here no one can ever imagine having a single entity of pollutant. This place will show you the city area's new and real-life worldly life. This place is in the Siraj Valley and is famous for the beautiful Serloskar Lake. This lake is a popular place for sunset lovers and is also known as the sunset point. There are several ways to rejuvenate oneself over here; you can even have a small to the falls. You can either get soaked into the view or enjoy it accompanied by a drink.
7. Barot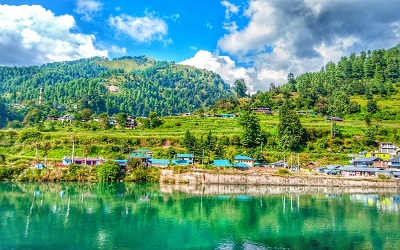 For the people who want to visit some new undiscovered places in Himachal Pradesh but on the other hand also love the outdoor activities then here is the place for them. Here in Barot, one can enjoy nature's beauty along with several recreational activities. Here you will discover the Uhl River that sustains the trout fishes. Along with that, here is a trout breeding center. This place is prominent for animal lovers. You can go for a tour to Nargu Wildlife Sanctuary, home to Himalayan Goats and black bears. The famous temple of Dev Pashakot also lies here, with evergreen forest surrounding it. For the trekker, there is a variety of trekking trails available here.
8. Gushaini
Gushaini is located in the Kullu district of Himachal Pradesh near river Tirthan. It is also recalled as the trout country due to the abundance of trout fishes here. If you like to do outdoor camping and dwell in tents, then the place is perfect for you. You can have a tent or camp by the side of the Tirthan river. To explore more, you can visit the Himalayan National Forest, just 20 km away from Gushaini. In the first, you will witness 30 types of creatures and have a walk through the parks.
9. Jalori Jot
Jalori Jot is also one of the must-visit places in Himachal Pradesh, especially for peace lovers. Here you can find the most fantastic trekking trails in the entire Himachal Pradesh. If you plan to explore the trail, put your gripping shoes on and begin for the 4 km long route. In between, you will also get a fantastic Dhabha that offers the best food. So, you can have some food and rest for some time there. Before leaving, do not forget to seek blessings from the Jalori Jot temple.
Conclusion
Therefore, these places are the one which has been least visited by the people but deserves more exploration. Also, you might need some traveling tips for a better excursion. These places are also one of the best visiting places of Himachal Tourism. So, along with your Shimla Manali trip, add a few of these places and get enticed by the hidden gems of Himachal.